03/17/2023 | Middle East
Earthquake Update VI from CM leader in Turkey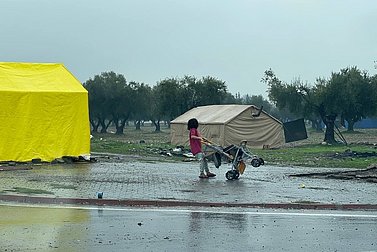 Showing the goodness of God
"We know that God works for good in all things through those who love him, have been called according to his purpose." (Romans 8:28)

Dear Brothers and Sisters,

With these verses we would like to greet you and wish you peace. Unfortunately, the death toll in the earthquake centred in Turkey has reached over 48,000. There is still a need for drinking water, showers and toilets, shelter and partially nutrition in the region. Due to the arrival of the spring season, the rainy season has started in the region. This poses a problem for people staying in tents. The aftershocks in the region continue to cause great fear for the people and they are unable to enter their homes even if their houses are intact.

What can we say as the Church of Turkey about all these situations? Obviously, our words are very inadequate in the wake of this pain, this absence, and our losses. As members of the Church of Turkey, the greatest truth we can take refuge in is the Word of God and the promise of His Word. Our God is active for good in every situation. Trusting in this word, having the hope of seeing God's hand of mercy behind it, increases our strength and makes us forget our weariness. All the brothers and sisters who have visited the region have had the same impression: Despair, sorrow, poverty, frustration and more...
The greatest power we have against these feelings and phenomena is mercy. Showing the goodness of God has become the common goal and purpose of the Churches of Turkey. As the Churches of Turkey, we want to continue to stand by our people together. With your prayers and support, the Churches of Turkey will continue to be with the people in need in the region.
Adıyaman
Volunteer brothers and sisters from many different churches are continuing their ministry in Adıyaman. In the coming weeks, plans are being made to build a container city in the city of Adıyaman. Approximately 200 container cities will be built in this region. Ancient Churches and their congregations are also active in the region. Members of the Assyrian Church will build an activity tent for children in Adıyaman. In Adıyaman, there is a general need for shoes, slippers, feminine hygiene products, cleaning supplies and basic foods.
Adıyaman, Besni
Last week, the Besni Government District Administration informed our brothers and sisters in the region that the catering services provided by the churches would no longer be available. We are very saddened by this situation. None of our brothers and sisters who have been subjected to this situation have lost their willingness to help, on the contrary, they have not fallen into inertia and have shown their determination to continue to serve in other areas and regions.
Hatay
In the city of Antakya (Antioch), where almost every building was damaged in the earthquake, valuable members of the Church of Turkey continue their voluntary assistance in
every region. In Antakya Centre, transportation has been provided to earthquake victims, especially those who need tents, and their aid needs are met. The tent and food warehouse established in Adana has been moved to Antakya and all logistic shipments have started to be sent and received within this city. In addition, the soup kitchen in Antakya, which provides three meals a day and has the capacity to serve 15,000 people daily, continues to serve meals to the people of the region every day. In the centre of Antakya, there is an ongoing need for food supplies and food aid is needed to ensure regular meals.
Hatay; İskenderun, Defne and Samandağ
In Iskenderun district, churches, especially from the city of Istanbul, continue to serve. The Iskenderun Bible Church is still used as an aid distribution warehouse. Approximately 150 tents have been set up through these churches. In addition, a tent activity centre for children's ministry has been set up and brothers and sisters who are experts in children's ministry are taking care of this centre. In Iskenderun city citer, the need for blankets, pillows, etc. for the tents continues.
Needs such as food, clothes, etc. are regularly prepared and delivered to the villages in Defne district. In Samandağ district, supplies are distributed, toys for children continue to be provided for. Dry food, cleaning supplies, underwear and blankets are still needed in this region.
Kahramanmaraş
The need for aid continues throughout the province of Kahramanmaraş. The Church of Turkey, the Ministry of Interior and the AFAD Directorate are delivering aid to those in need in a coordinated manner. Needs such as tents, coal, blankets, etc. are constantly being sent to the region. There are needs such as cleaning materials, underwear, etc.
There are some brothers and sisters in the region who found pieces of Bibles among the ruins. Although there were no Christians in that apartment building as far as we know, it was very encouraging to know that some people had Bibles and were reading them. We hope that the number of people who have found Christ in Kahramanmaraş is much higher than we know!
Malatya
In Malatya, hot meals and provisions continue to be distributed. The kitchen service here is growing considerably. In the hospital area, the food service continues in coordination with the hospital management despite various attempts to prevent it. The biggest problem in this city is shelter. Tents and containers are in short supply.
Adana & Mersin
In Adana & Mersin, aid parcels are regularly prepared and shipped to the nearest provinces and the needy people are cared for.
May the Lord have mercy on us all. May He protect and lead us with His Holy Spirit.
If you would like to donate to these affected brothers and sisters who are already suffering hardship, we will be happy to pass this on through CM.
Bank: IIRF-D / CM
Evangelische Bank Kassel
IBAN · DE11520604100005015871
BIC GENODEF1EK1
Designated purpose: Erdbebenhilfe CM