Testimony from Shino, Somali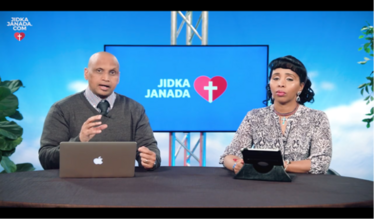 Somali Christian TV is a media and social media ministry. We operate on all major social media platforms (i.e. Facebook, YouTube, Instagram, TikTok, Twitter etc). We are one of the most well-known Somali Christian ministries online. We produce video content about Christianity and Islam, comparing the two and also post testimonies of other ex-Muslims on our channels, mostly Somali ex-Muslim Christians. We serve Somalis worldwide, in Somalia and in the diaspora. Somalia is a '100% Muslim' country in the Horn of Africa and the 3rd most dangerous place to be a Christian, according to Open Doors, following North Korea and Afghanistan.
Leaving Islam has grave consequences; my wife and I have had our whole family disown us and threaten our lives. Being in the spotlight as ex-Muslims also means we get daily death threats for being Christian and for having left Islam. Our testimonies are on our YouTube channel: Somali Christian TV (English speaking channel), for those who are interested in more details.
Due to us being vocal about our faith and because of the nature of Somali Muslims being angry and sending us death threats for leaving their religion, many have viewed the existence of our ministry as a threat to Somalia being '100% Muslim', a false statistic they are very proud of. The reality is many Somalis are leaving Islam, albeit some in secret due to the intense ostracization and persecution, but also doing so publicly. This was the very reason a Somali Muslim man made a video warning other Somali Muslims of us, Somali Christians, and of the 'tsunami' of people leaving Islam. This was a huge challenge experienced by our ministry. This video amassed nearly 1 million views and caused our channel and social media platforms to be raided by death threats, hate comments, mass reporting and disliking of our content.
It is not all doom and gloom though; praise the Lord because He made this bad situation into a good one. Many more Somalis, more than ever, are accepting the Lord. Many heard about us and the existence of Somali Christians from that very video. In particular, during one of our livestreams on YouTube (Somali Christian TV 2, which is our Somali speaking channel) 7 Somali Muslims gave their lives to Jesus, live on air. Our WhatsApps have been flooded with more people wanting to know more about Jesus, more than ever and finding the true God, deciding to be bold and accept Jesus Christ! We are so grateful for what the Lord is doing among the Somalis and we believe we are the first church (online only because Somali Christians are so dispersed in the diaspora). Thousands have found the Lord through our ministry and it has been all because of His love and grace for the Somali people and for the support and prayers from our fellow Christians. We love you all.
Please therefore pray for all the new believers, especially in Somalia as the penalty of leaving Islam is death but also ostracization and persecution which Somalis face if they are a part of the Somali community, anywhere in the world.
Please pray for our channels to stay running, despite the mass reporting and hate comments and for many more Somalis to find Jesus.
Please pray for our continued protection.
May God bless you all. With peace and love,
Somali Christian Media Ministries