05/23/2023 | East Africa
MBBs suffer enormously under the current conflict in Sudan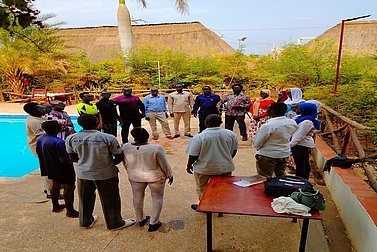 Communio Messianica publishes here; the appeal of one of its churches in the conflict area of Sudan, the "Light of Christ Bible Church," which is doing much for the converts in Sudan. Christian converts from Islam suffer particularly under the current conflict as they are shunned by the Muslim population and do not receive help in the same way others do.
For us converts from Islam in Sudan, what is happening now in Sudan started a long time ago. It has become so bad this year that it has reached the capital of Sudan. This, in turn, has led to internally displaced people and refugees in the neighboring countries of South Sudan, Ethiopia, Chad, and Egypt. We pray and hope that this war will stop, and peace will come to our beloved country. The long civil war has traumatized almost every Sudanese. Loved ones have been lost, and relatives have disappeared. Meeting basic needs for the family is almost impossible for widows, the elderly, and single mothers, especially for newly converted Christians with an Islamic background. Most of them have children and relatives under their care. The political conflict adds to the trauma people have already experienced in different parts of Sudan, especially in Darfur.
Before the recent conflict, there were large evangelistic movements with discipleship training in different parts of Sudan, especially in the capital of Sudan and in the Darfur region. Nevertheless, the converts were persecuted by their families and loved ones while preaching the gospel of the kingdom of God.
And this gospel of the kingdom will be preached in the whole world as a testimony to all nations, and then the end will come. Matthew 24:14 NIV
We were privileged to see so many conversions, Muslims giving their lives to Jesus, which led to many cell churches and also established churches in Khartoum and Darfur. On our last trip to Sudan in March 2023, we saw people giving their lives to Jesus and eager to know more about him. The situation was dangerous, sometimes disciples of Jesus would be robbed by militia as they went from town to town spreading the gospel of Jesus. This was the situation of the converts before the riots.
Currently, the MBBs in Sudan are in a very difficult situation. Some have lost their loved ones and husbands, their homes are destroyed and just surviving is very difficult. Especially for those who are sent away from their families because of their faith in Christ before the current crisis. Some are staying with fellow believers and others can find safe places nearby. Some cannot be evacuated from the city because of lack of transport. The team that left to meet the local refugees is facing survival challenges and they are not welcomed by the Muslim communities because they are Christians.
According to reports from Sudan, many NGOs are leaving the country because of the current political war.
This politically motivated war against converts in Sudan, especially in Darfur, has already caused three deaths among believers. The church lost two brothers in Christ in April 2023. They were probably killed accidentally by cross bullets in Al Fashir, in North Darfur, and Khartoum Umdurman. Widows with children were left behind by those who were killed. Ten brothers in Christ have been injured in different towns. The church building in Al Fashir was destroyed during the fighting when a bomb fell on the church building. Two brothers were injured during an ongoing meeting. The same is true for the Sudanese Evangelical Church in Khartoum Bahir. It was destroyed on 17th April 2023 and some brothers were injured.
Many MBBs' houses were destroyed by bombs during the war, leading to the displacement of believers in various towns in Sudan.
In general, the situation in Khartoum is urgent. People are facing shortages of food, water, and medicine. Almost all government and private hospitals are closed. The high cost of transport from Khartoum, where serious looting is taking place, to other safe cities makes escape impossible for many.
We as the body of Christ (MBBs) are praying to meet some basic needs of the endangered Christians in Sudan. This includes medication, and food items, shifting the unable to the nearest safe place as well as care for widows and orphans meeting their basic needs such as renting houses for them, and so on.
Light of Christ Bible Church (LCBC) is appealing to the MBB family and all other Christians from their respective places and churches in different countries, to stand with their fellow brothers and sisters in Christ in Sudan, who are going through a merciless situation as they are striving to survive in this conflict. We will be very grateful for your immediate response to our current situation in our beloved country Sudan.
CM gladly arranges donations.
Communio Messianica e.V.
Evangelische Bank
IBAN: DE32 520 604 100 005 039 355
BIC: GENODEF1EK1
Designated purpose: Sudan
The following pictures were taken before the outbreak of the armed conflict.
Baptism of a new believer in Khartoum

© Light of Christ Bible Church

Bible study group in Darfur

© Light of Christ Bible Church

Discipleship training in Darfur

© Light of Christ Bible Church

Destroyed church building in Al Fashir.

© Light of Christ Bible Church

Destroyed market in Al-Fashir

© Light of Christ Bible Church

Destroyed house of Christians

© Light of Christ Bible Church

Zerstörtes Haus der Christen

© Light of Christ Bible Church

Zerstörtes Haus der Christen

© Light of Christ Bible Church
Watch this hymn of prayer for Sudan by Nasser Musa