02/10/2023 | Middle East
Earthquake Relief Update by CM's partner in Syria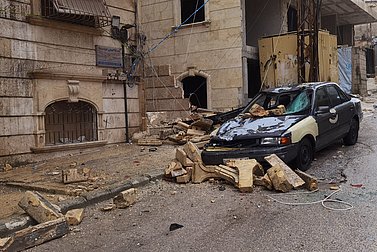 SYRIA: As of today, the tenth of February the death toll has further risen to more than 3'300 reported deaths in Syria alone, but these official numbers are far too low. The problem in Syria is the lack of accessibility, functioning authority and infrastructure due to numerous frontlines and warring parties right in this earthquake affected northwestern region of Syria. So the figures of deaths and damage in Syria will further increase as thousands are still missing. Despite seldom news that people were found alive under the rubble even after more than 96 hours after the earthquake took place, the hope to find more alive is almost gone. Many have lost people dear to them. Aftershocks are still happening and people are still scared.
According to official Syrian reports, hundreds of thousands became homeless. This is not only because their house collapsed, but also because their houses are not safe due to the damage. In general, the international help to Syria is still very limited due to sanctions, political issues and difficult access.
Due to the massive destruction of the buildings in the cities, especially in Aleppo, many are leaving the city. Right now engineers are checking on the houses and sadly have to tell many people that their houses not secure anymore. The inhabitants have to pack their stuff and leave. The Syrian authorities started to raze buildings because they are to damaged and are a risk to the people.
In Aleppo, there is a shortage of civil engineers to examine the buildings and there is high shortage of heavy vehicles to remove the ruins and help people inside the ruins. Some people died because of lack of expertise, wanting to help others in the rubble. Still buildings are collapsing because many were already affected by the war and now by the current quake and the many aftershocks.
Many thousands spent the night outside, panicking and too scared to stay in their homes. The tents distributed by the government are not at all enough. Some build primitive tents out of plastic plan. They need blankets, heating material, medicine and food. In Aleppo the availability of these things increasingly becomes a challenge and hopelessness among the people is increasing.
One of our Aleppo city relief team leaders told us last night: "with our relief teams in Aleppo city we are reaching out to the traumatized homeless in the streets and parks to distribute yesterday and today bread and food, water, warm jackets, blankets, some urgent medicine, also some tents or tent material. All our partnering churches are open 24/7 welcoming people to stay in safe and warm rooms, receive tea, some food and blankets, also receive comfort and counselling for those who are in despair."
Nevertheless, a lot of people are also leaving Aleppo city because of fear and are heading towards the countryside into already crowded refugee camps. Since four years our relief teams are serving in these refugee camps on or between the frontlines, with many forgotten IDPs from the Syrian war and when the Turkish army and Turkish backed militias invaded Afrin. Now again thousands of newcomers are coming.
Our Pastor V. told us: "This earthquake has caused an enormous destruction to many areas including the Kurdish city quarters of Aleppo. As a result, the Kurdish people fled the area heading to the already crowded Al-Shahbaa refugee camps there."
Our relief teams were already on the ground when the thousands of people who were displaced by the earthquake arrived in the camp and we are distributing food packages, water, warm blankets and shelter. Many are traumatized and scared of the aftershocks. Yet with so many people coming, it is not easy to plan and harder to procure the necessary items due to the limited availability. More food, water, blankets and heating material are needed and will be distributed hopefully in the next two days.
The destruction by the earthquake damaged critical infrastructure and constructions. It was reported that due to the damage by the earthquake a dam collapsed and flooded parts of a nearby village yesterday.
The lack of fuel is hindering the mobility and affecting procurement and distribution of aid. Furthermore, politics is hindering the help. Turkey for example did not allow help from the Kurdish controlled areas into Damascus-held regions. Only the airports under control of the Syrian government are open to aid delivery.
Our local relief director told us yesterday: "Our relief teams in Aleppo City and affected Afrin/Shahbaa region bought a ton of Milk and local Yogurt Labneh and thousands of bread bundles, as well as hygiene kits to be distributed in the afternoons. In the Shahbaa camps we are planning to distribute one or two food items on a daily basis instead of distributing them in one big food package for several days since the number of newcomers is daily increasing."
The distribution of water is necessary due to the damage of waterpipes and of water tanks.
There are still areas in Northwestern Syria, which are mostly cut off from outside help. Many people there were war refugees and were in need already before the earthquake, but now their misery has increased manifold. Please pray for them.
Please pray that in the midst of this horrible earthquake people will find help and comfort. Our brothers and sisters mentioned, it could be the chance for reconciliation by helping one another instead of deepening the hate between the different religious and ethnic and religious groups as well as warring parties by hindering the aid.
Together with our relief teams and local Church partners, we are working day and night to help the suffering people.
Thank you for all your prayers and support.
If you would like to donate to these affected brothers and sisters who are already suffering hardship, we will be happy to pass this on through CM.
Bank: IIRF-D / CM
Evangelische Bank Kassel
IBAN · DE11520604100005015871
BIC GENODEF1EK1
Designated purpose: Erdbebenhilfe CM